Digital instrument clusters and body control systems
First in the world aerospace derived on-board systems for vehicles and boats — we develop, manufacture and sell digital instrument clusters and body control solutions.
Prato Orage VIC — virtual instrument cluster. Graphical design — Bruno Prata.
From your request to installation we take care about every stage of creation.
Full production cycle

specification
development
manufacturing
certification
installation
We accept orders both for limited and unlimited series. For limited series we accept orders starting 4 devices.
Virtual instrument cluster is embedded high-performance graphical computer. For superior reliability and performance our clusters have avionic aluminum housings, aerospace connectors and use components from leading manufacturers.

Digital instrument cluster VIC Laplace Z.
Specialized digital instrumentation includes engine and motor monitors — devices which can collect and display data related to engine or motor status.
Body control systems
Body control solutions include variety of modules responsible for controlling body functions: lights, doors, windows, mirrors, seats, heat-ventilation-air-conditioning — HVAC. Linked togeather they create an on-board network of aerospace type.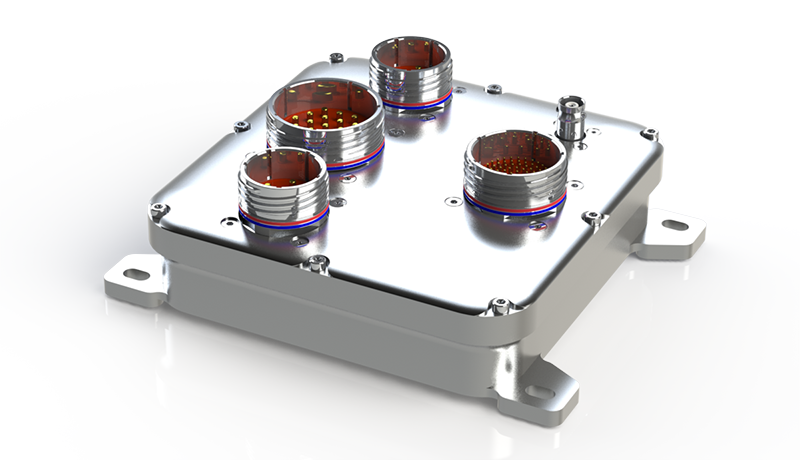 BCM Hertz Z — body control module, central computer.
All our control modules have sealed, hard anodized avionic aluminum housings, aerospace connectors and utilize components from leading manufacturers.
Full range of body control devices

BCM — body control module, central computer
PDM — power distribution module
DCM — door control module
CCM — climate control module, HVAC
SCM — seat control module
Special offer 2019
On limited budget we will take any custom-tailored module from specification to ready for production state in four months. Hardware, housing, graphics and programming are included.
Offer 2019 — custom device from sketch to production

module — any
time — 4 months
price — 11997 € per month
component sourcing
included — 4 functional prototypes with mating connectors
for instrument cluster included — graphics, three modes
development protection — stocking critical components
special delivery — 4 production devices in 8 months as part of this offer
extra — documentation, delivery and on-site installation

In 2019 we add to our product line VCC — virtual central console. This complex device we make in 8 months, production devices are delivered in 12 months.
Our services
Original equipment manufacturing
— OEM — for automotive, marine, avionics:
Body control system design

Hardware for body control systems

Programming of body control systems

Housing for body control systems