Graphical design for automotive digital instrument clusters
1. Introduction
Digital instrument clusters are virtual ones. Now metal and plastic substituted by dynamic image, which leads to new field of opportunities:
skinnable, configurable dashboard — the cluster can have several designs: day and night, comfort and sport
interactivity — adding touch-screen or joystick opens access to car settings like trip counter, clocks, set of displayed parameters
virtuality — indicators and meters can behave the way impossible for real-metal boards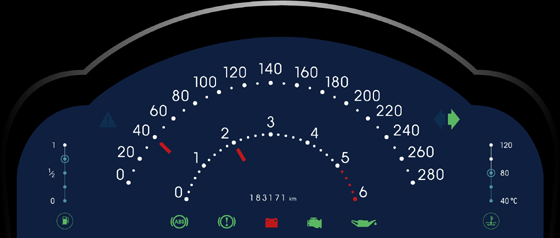 Fig. 1. Automotive digital instrument cluster graphical design.
2. Graphical design
Graphical design falls into three important parts:
infographics
usability
interface
Infographics — automotive dashboard is all about graphical representation of the car state information. Whatever the representation could be in any case it should be crystal clear and definitive. It should be easy to interpret the cluster at just a glance, with minimum efforts.
Usability — it should be comfortable to use dashboard, which leads to idea of parameters priority, proper indicator placing, sizing and color coding.
Interface — obviously the dashboard is interface, which speaks to the driver, and this point gets more important in the case the cluster is interactive. The language of interface should be clear and should help to find the shortest way to the goal, like setting the clocks or resetting the trip counter.

Fig. 2. Automotive digital instrument cluster graphical design layout.
3. Our offer
Comprehensive service in graphical design for automotive digital instrument clusters:

creation of the instrument cluster graphics from scratch
development of the dashboard graphics based on your specification
redesign of the existing graphics
moving real metal and plastic design into virtual realm
Depending on the case from above we expect from you your wishes, detailed description, images and drawings or real dashboard.